Since the age of 17, Ike Rodriguez has been a pioneering entrepreneur.  What began as a shoestring flea market gig selling t-shirts and music tapes grew into Find Outlet, a chain of chic boutiques offering trendy, cutting edge designer clothing at delightfully discounted prices.  As Ike's expertise and Find's reputation matured, Find Outlet came to develop sample sales and special events for big time fashion players like Intermix and BlueFly.com.
Find Outlet has been featured in Entrepreneur, New York Magazine, Lucky, and Vogue, and has won many awards including New York Magazines Best Places to Shop in 2004 and the Zagat award for Top Quality Discount Stores in 2005 and 2006.
After years in the fast-paced and highly competitive fashion industry I decided to unplug. I bought a live-aboard sailboat and an Airstream Westfalia RV and started living a different life- the life of my dreams!  I immersed myself (spent time) in nature every day, celebrated the full moon every month, swam in rivers and oceans, played with dolphins, climbed trees, and slept under the stars.  After two years I began to feel that something was brewing within me, a new business was ready to come into the world, a green business; my own green dream.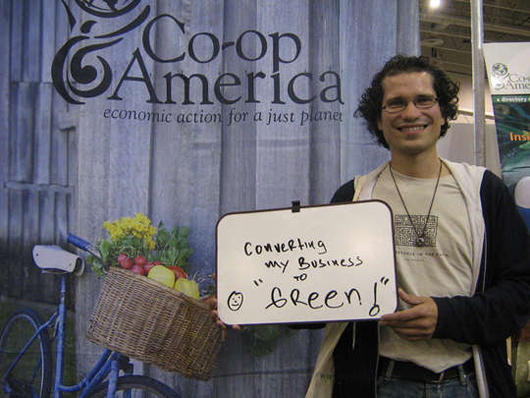 Not only was creating a green business exciting to me, but I soon realized that there is an abundance of amazing green products and services and people to share with others on a scale much broader than just your average retail situation.
Originally I was thinking to just stock my stores with green products for the holidays.  Then I went to the Green Festival in Washington, DC to see what products were available. I was so excited about the event that on the ride back home I had an inspiration.  I knew I wanted to do more than just add some products to my stores.
I wanted to spread the word and participate in a greater goal that will have a positive effect on this planet.
Conscious people doing conscious things and thinking positive thoughts- that's the new direction that I wanted to explore and share with the world.  Greenfinds.com! In less than a month from the DC Green Festival we launched the Greenfinds.com website. Now I know I am on the right path when things like this manifest so quickly and effortlessly.  As for my five-year plan, ask me in 4 years and 364 days!
Ike Rodriguez
Founder
ike@greenfinds.com
 "Go confidently in the direction of your dreams.  Live the Life you've imagined!"
- Thoreau